The conference will take place in ENG 207, which is on the second floor of block G in the engineering complex on the University of Calgary main campus. The engineering complex is the home of the Schulich School of Engineering and the Department of Geomatics Engineering. ENG 207 is where you will find the registration desk and where we will have the welcoming reception, the technical talks, the morning and afternoon coffee breaks, the business meeting, and the awards dinner. Lunches will be provided in the Dining Centre (also know as the Landing), which neighbours the International House to the south-west.
The university websites provides both a .pdf map and also an interactive map. To walk from G block (see ENG on the map) to the International House (see IH) / the Dining Centre (see DC) or vice versa, cut through "MacHall" (labelled as MacEwan Student Centre or MSC on the map). If you are driving to campus, park at either Lot 11 (see L11) or Lot 10 (see L10). If you arrive on the C-train, get off at the University LRT station and follow the paths to the south of Biological Sciences (BI), Social Sciences (SS), Science A (SA), Science B (SB), and you will see the main entrance of the engineering complex between the Taylor Institute (TI) on your left and ICT on your right.
City of Calgary
Calgary is a city in the western Canadian province of Alberta, which is located just east of the Rocky Mountains. It is known for the Calgary Stampede (July 7-16 for 2023). The city has a number of landmarks such as the Bow building, the Peace Bridge, the Calgary Tower, and an entire network of Plus 15s. In 1988, Calgary hosted the winter Olympics. Many of the 1988 Olympic game venues can still be visited today: the Saddledome (now a concert venue and home of NHL's Calgary Flames), the Olympic Oval (known as having the fastest speed skating ice on Earth), Canada Olympic Park (COP) (featured on the movies Cool Runnings and Eddie the Eagle). On the theme of sports, Calgary is home of Baker Park, which is ranked as the most popular disc golf course in Canada and the 5th busiest in the world.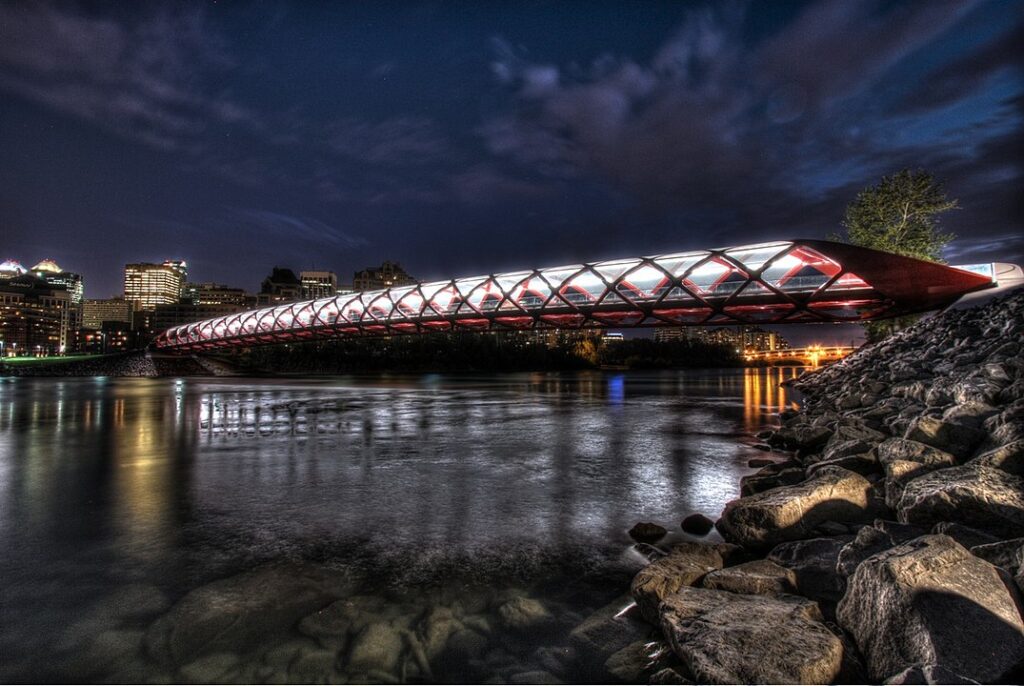 Rocky Mountains
What Calgary is also world famous for is its proximity to nature. The conference will include a field trip to the Barrier Lake Station in Kananaskis, where the University of Calgary geomatics engineering survey camp takes place annually. In addition, conference attendees will get the option to visit Lake Louis (and Morraine Lake), and the Banff town site on the last day of the conference. Other places outside Calgary worth driving to are: Waterton Lakes National Park (to the south), Turtle Mountain at the Crowsnest Pass (to the south-west), the Athabasca Glacier / the Columbia Icefield and Jasper (to the north-west), and the Drumheller Hoodoos (to the east).