Updated 2022-09-26
Fall Schedule
Here is the general class booking scheduled for the Fall Term: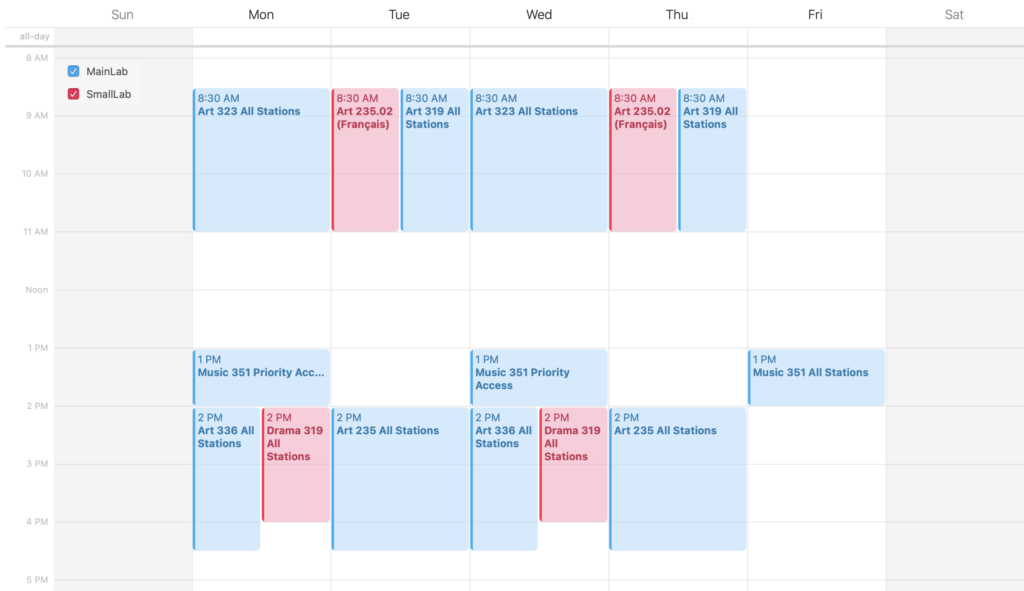 The schedule may vary at times. See the Lab Bookings section of the Lab Access page for more information on how to access the calendar for specific dates. You can also check the door of each lab for this week's schedule.
Card Access
All students who are majors in Art, Music, Drama, or Dance should now have card access to both Labs. Undergraduate have access from 07:00 to 23:00 daily, and graduate students have 24 hour access. Please note these hours are longer than building open hours, so you should try to be in the building before 22:00 on weekdays and 17:00 on weekends if you wish to work in the Labs. Once you are in the building, you may stay, even if the building is closed.
If your card does not open the door (remember, you just push the door, you can't turn the door handle), check with IAML staff during office hours to get this fixed. Also, anyone who is a minor in Art, Music, Drama, or Dance may request card access by talking to IAML Staff.
Health and Safety
Any other questions? Contact us!