Updated 2023-09-22
Fall Schedule
Here is the general class booking scheduled for the Fall Term: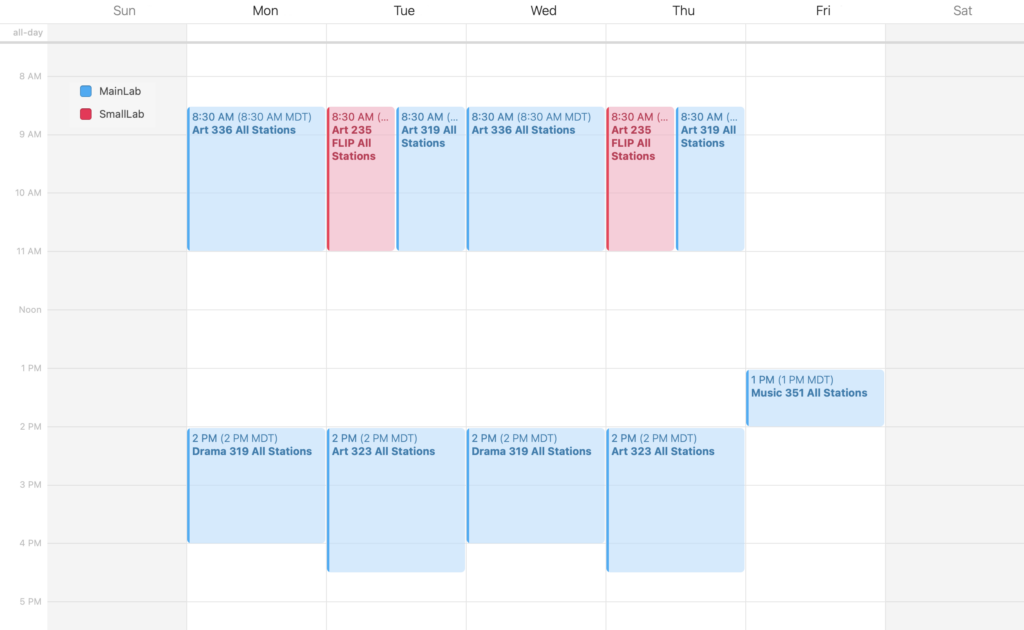 The schedule may vary at times. See the Lab Bookings section of the Lab Access page for more information on how to access the calendar for specific dates. You can also check the door of each lab for this week's schedule.
Card Access
All students who are majors in Art, Music, Drama, or Dance have received card access as of September 22. Undergraduates will have access from 07:00 to 23:00 daily, and graduate students will have 24 hour access. Your card access now extends to the 6th Floor perimeter doors. Once you are in the building, you may stay, even if the building is closed.
If your card does not open the door (remember, you just push the door to the Main and Small Labs, you can't turn the door handle), check with IAML staff during office hours to get this fixed. Also, anyone who is a minor in Art, Music, Drama, or Dance may request the same level of card access by talking to IAML Staff.
Health and Safety
Although the ventilation in both labs is very good (CO2 levels are routinely below 800 ppm), people tend to spend long times in the Lab (e.g., 2½ hour classes), which increases risk of exposure to airborne pathogens (e.g., COVID-19, seasonal influenza, wildfire smoke). Because of this, we recommend masking with medical-grade masks (e.g., N95) to reduce risk. A CO2 monitor is located in each lab to provide you with information specific to that lab and time.
Sanitizing wipes and hand sanitizer are available in both labs.
Do you prefer to work on your own computer rather than come to the Lab? We have a blog post on how you can download or purchase common Lab software for your own computer.
Any other questions? Contact us!
Territorial Land Acknowledgement
The University of Calgary, located in the heart of Southern Alberta, both acknowledges and pays tribute to the traditional territories of the peoples of Treaty 7, which include the Blackfoot Confederacy (comprised of the Siksika, the Piikani, and the Kainai First Nations), the Tsuut'ina First Nation, and the Stoney Nakoda (including Chiniki, Bearspaw, and Goodstoney First Nations). The City of Calgary is also home to the Métis Nation of Alberta Region 3.
The University of Calgary is situated on land Northwest of where the Bow River meets the Elbow River, a site traditionally known as Moh'kins'tsis to the Blackfoot, Wîchîspa to the Stoney Nakoda, and Guts'ists'i to the Tsuut'ina. On this land and in this place we strive to learn together, walk together, and grow together "in a good way."